How we help our: 
Candidates
Great relationships are critical to our success. Theralent Executive Search invests time upfront to learn our candidate's background and most importantly we learn their career aspirations.  We are not a one time only recruiting firm.  We understand each time we call it may not be a good time to make a change but what we strive for is to be a trusted partner when the time is right.  When we do work together we pay attention to the details most recruiters miss such as timely feedback, updates on how the process is going and an honest discussion about compensation.  Theralent will spend time discussing interview preparation, resume feedback and we'll create a career "highlight reel" so our clients get a clear vision on how you could make a positive impact for them.
Clients
Theralent Executive Search approaches each client with the goal of establishing long term and trusted relationships.  We understand the importance you've placed in us to help you find the most talented individuals for your company.  We are professional, focused and we pay attention to details.  Theralent works with our clients to provide them with the most current salary surveys and in cases where they're adding a new type of position in their company we can assist creating the job description.
Theralent Executive Search approaches recruiting as part advertising and sales, in addition to qualifying the best candidates.  In most cases, a potential candidate hears about your company for the first time through a recruiter.  We invest time to learn about your products, pipeline, finances and will listen in to quarterly conference calls so we can present a knowledgeable, professional image to the candidates.  Really good candidates ask tough questions and we are able to answer them.
A few of our clients we're proud to have helped: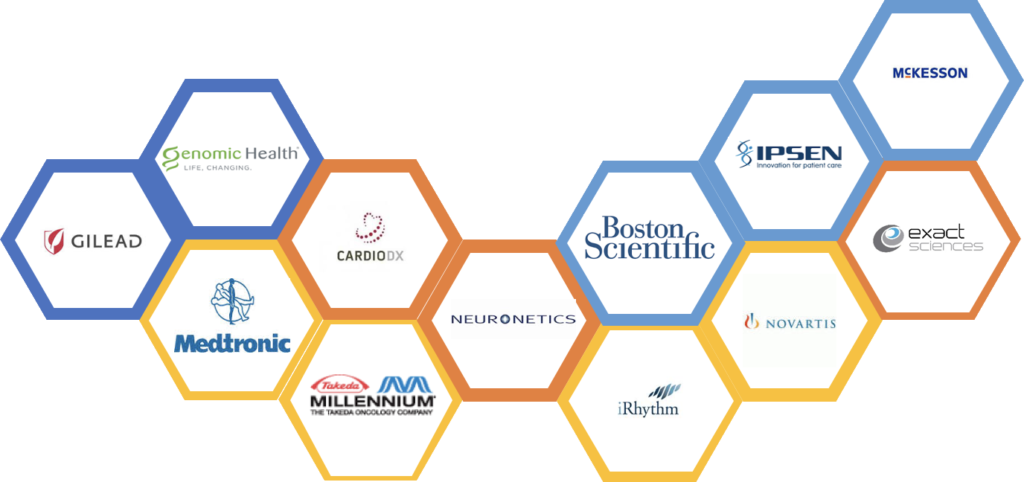 Testimonials from a few clients and candidates we've worked with:
John Moore – Global Leader Health Economics @ Gore Medical

"We have found the services provided by Jason Lewis and Theralent Executive Search to be absolutely invaluable towards enabling our endeavors to build a world class Health Economics team at W. L. Gore & Associates.  The market for top talent with the type of unique and specialized skills involved in Market Access activity for the medical device space is incredibly tight, and we would not have achieved the success we have enjoyed over the past year without Jason's help– he has been and will continue to be a key partner for our success moving into the future."

Doug Danison – Market Access @ Millennium Pharmaceuticals

Jason Lewis did a wonderful job during the recruiting and negotiation process for my recent move. He took a lot of time to figure out what mattered to me and found creative ways to get what I needed. Jason understands that job changes are family decisions and took the time to speak directly with my wife about her concerns with the move. I highly recommend Jason!

Phil MacDonald – Vice President @ EndoGastric Solutions

Jason has represented me on several engagements. His attention to detail, diligence on follow-up and collegial rapport have put him above all other executive recruiters I have [literally] ever dealt with. I have often told others that he is not the typical recruiter, I consider him a friend because of how he treats me.

Karl Florence-Sr. Dir of Reimbursement

I have known Jason and worked with him for the past several years. He is extremely knowledgeable about the managed care and reimbursement areas for medical device and diagnostic products. He is a valuable resource that I enjoy talking to about developments and trends in the industry. He also has an interest in start-up and smaller size companies that bring new and novel technologies to the marketplace. It is a pleasure and rewarding to work with Jason.

Featured Opportunities
An established medical device company is building a field based team to support their newest product.  My client has returned to profitability after COVID and due to their research and development activities will be launching new products with excellent clinical data.

The positions are new to the company so this is a great opportunity to contribute to the success of the product and the ability to make an impact determining the the SOPs for the position as well.

The management is hands off and is looking for someone with experience to determine their own top priorities and provide feedback to impact the overall provider support strategy.

The compensation is pretty good and includes a bonus, long term incentives and a car allowance.  The positions can be based in either the Central US or the West Coast.

Feel free to call Jason Lewis at 937-684-8893 or email jason@theralent.com to setup a time to talk.

I'm currently recruiting on 2 separate VP of Market Access and Health Economic roles with established medical device companies.  Either can be based remotely.

Global Lead of Market Access and Health Economics

This role will serve as the Market Access KOL and Advocate for this large medical device company.  It is primarily focused on global policy, global government affairs, advancing the impact market access and health economics have on the company's future and looking five to ten years ahead to continue their innovation in the market access arena.  This role serves as the corporate market access leader.  Each of their divisions has its own Head of Market Access who report into the GM of the division and a dotted line to this position.  The company has a Health Economics Center of Excellence responsible for supporting the divisions with health economic studies and information.  This is a "Big Think" role and there needs to be a track record of global success and a background of influencing C-level management on long term strategic initiatives to increase the competitive advantage. It will manage a team of 6 direct reports and 40 indirect reports.

VP of Market Access

This position will be focused on the medical device company's division and their current and pipeline products.  The products have Medicare coverage and the short to mid term goals are to increase the commercial payer coverage of their products.  Experience and a track record of commercial payer coverage policies is required.  The division has a start up mentality and is fast paced.  It will manage a team of 8 with an opportunity to further build out the team.  The products have excellent clinical data to develop the economic story for the payers.

I would be happy to go into more detail with you about either of the roles and answer any questions you may have.  Below are links to schedule a time to talk or video chat. A video chat is preferred and I look forward to speaking with you.

Phone call:
https://cal.mixmax.com/theralent/phonecall

Zoom Call:
https://cal.mixmax.com/theralent/zoom

Two exciting roles are being created to help an established biotech company continue their success with payer coverage.  The company is publicly traded and well established. Their main product alleviates the use of another product which has significant side effects and impact on the patient.  The position will be primarily focused on regional commercial payers to continue their payer success and expand coverage for their current and pipeline products.

One role will primarily focus on California and can be based there or Oregon, Washington or Nevada.  The Central role can be based in Illinois, Ohio, Indiana, Michigan or Iowa.

The stock is near its all time high and the person this role will report into is a great manager and someone I've worked with in the past building teams.  I've heard great things about their approach and style from past placements.

Their clinical data is strong and the team has excellent resources.

If you'd like to learn more feel free to reach our schedule a time to talk on the phone or a Zoom call.  The links to schedule are below and I'm happy to go into detail with you about them:

Phone call:
https://cal.mixmax.com/theralent/phonecall

Zoom Call:
https://cal.mixmax.com/theralent/zoom
Wanna Talk?
                         Drop by and say Hi…                       
275 North Main St. 
Springboro, OH
Phone: 937-306-1545
Recent Blog Posts
A quick before and after video on how to improve your video interview or conference.
A number of clients and other companies are beginning to inquire about two characteristics in their STAR questions in the interview process:  Grit and Adaptability.  As the pace of business becomes faster and the availability of data is easier to attain the ability to adapt quickly is becoming a characteristic in increasing demand. I've […]
There are several websites, such as Reddit, which have features that allow the website visitors to submit questions to "celebrities" and have the answers posted online for all too read.  President Obama, Bill Gates, Bono and others have participated in the "Ask Me Anything" forums. I thought it would be interesting to take the same […]
Read More